August 18, 2020
Finji @ IndieArena 2020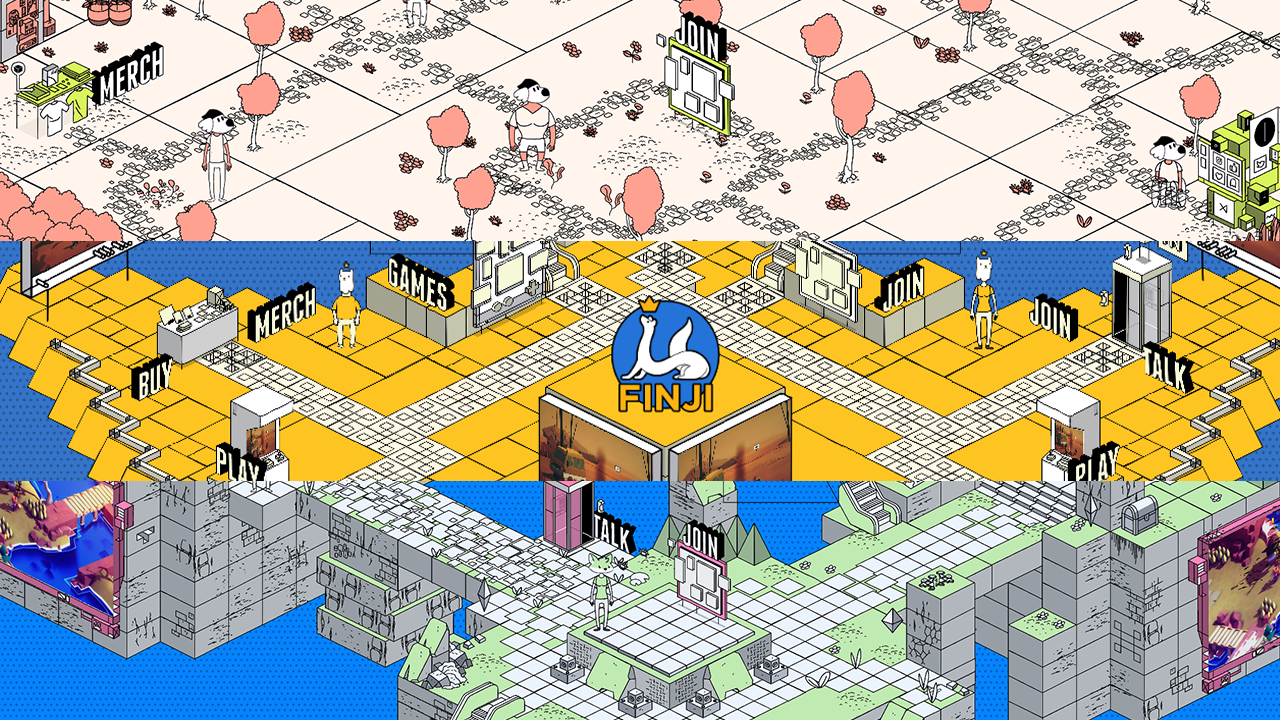 Now that staying at home is the new normal, one of our favorite forms of fan interaction is gone: Conventions.
Conventions were a great way to show demos, observe player interactions in real time, and meet Finji fans in person. Thankfully, through the help of our friends at Indie Arena, we won't have to have to miss out on the convention experience this year. Join us from August 27th through August 30th for Indie Arena Booth Online, a virtual convention space built for indie games, trailers, demos, merch, and more.
From August 27th - August 30th, Finji will be a part ofIndie Arena Booth Online, a virtual convention space unlike anything we've ever seen. We've worked with Indie Arena over the last several months to build out unique booth spaces to match the style of our games, from the canvas-like world of Chicory: A Colorful Tale to the vast countryside of TUNIC. We've even set up a special crown-shaped Finji booth in celebration of our entire library of games. In these spaces you'll be able to find shortcuts to playable demos, links to our merch store featuring some all new products, and info on how to view our livestream programming during the event.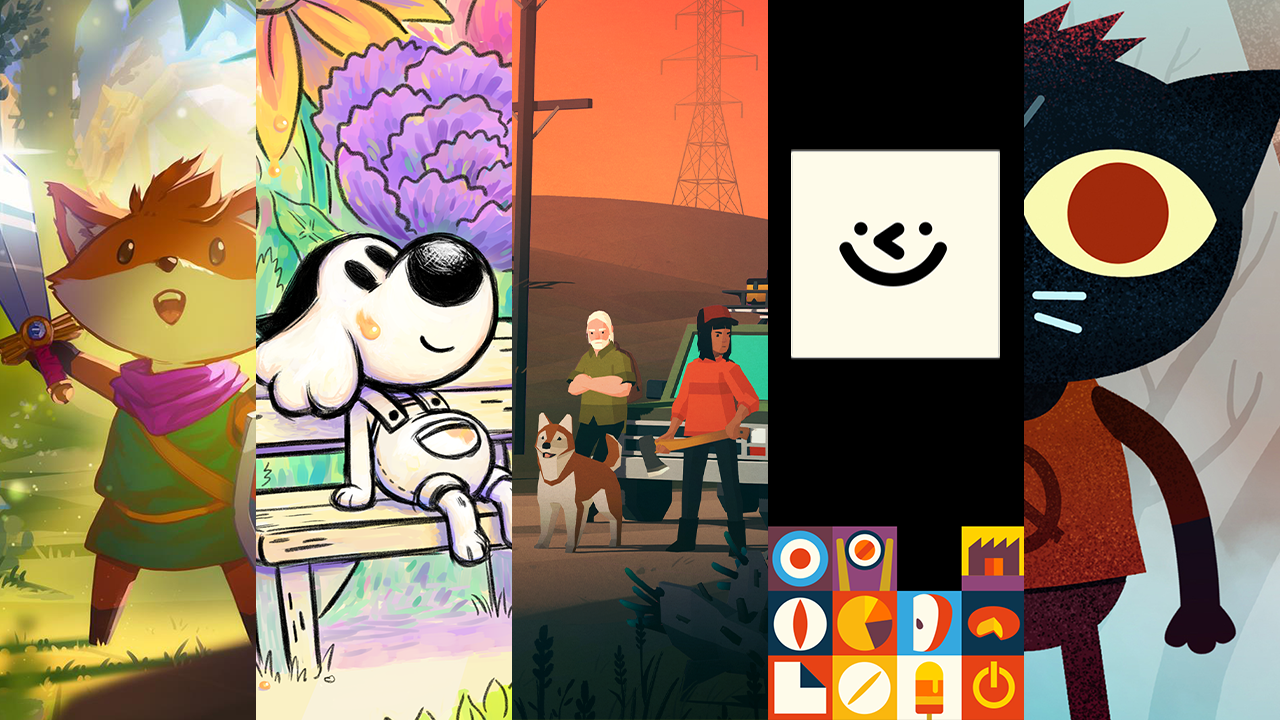 We're very excited to reveal the Finji demo lineup. Previously limited to in-person events like conventions, you will be able to play the following PC demos on Steam during the duration of the IndieArena Online event from August 27 through August 30:
TUNIC
Chicory: A Colorful Tale
Overland
Wilmot's Warehouse
Night in the Woods
In addition to our virtual event space and playable demos, we're planning a weekend of livestreams featuring developer commentary, Q&A sessions, special guests, and more. Take a peek at our schedule below, and follow us on Twitter where we'll be boosting these events alongside streams happening throughout the day from our content creator partners around the world.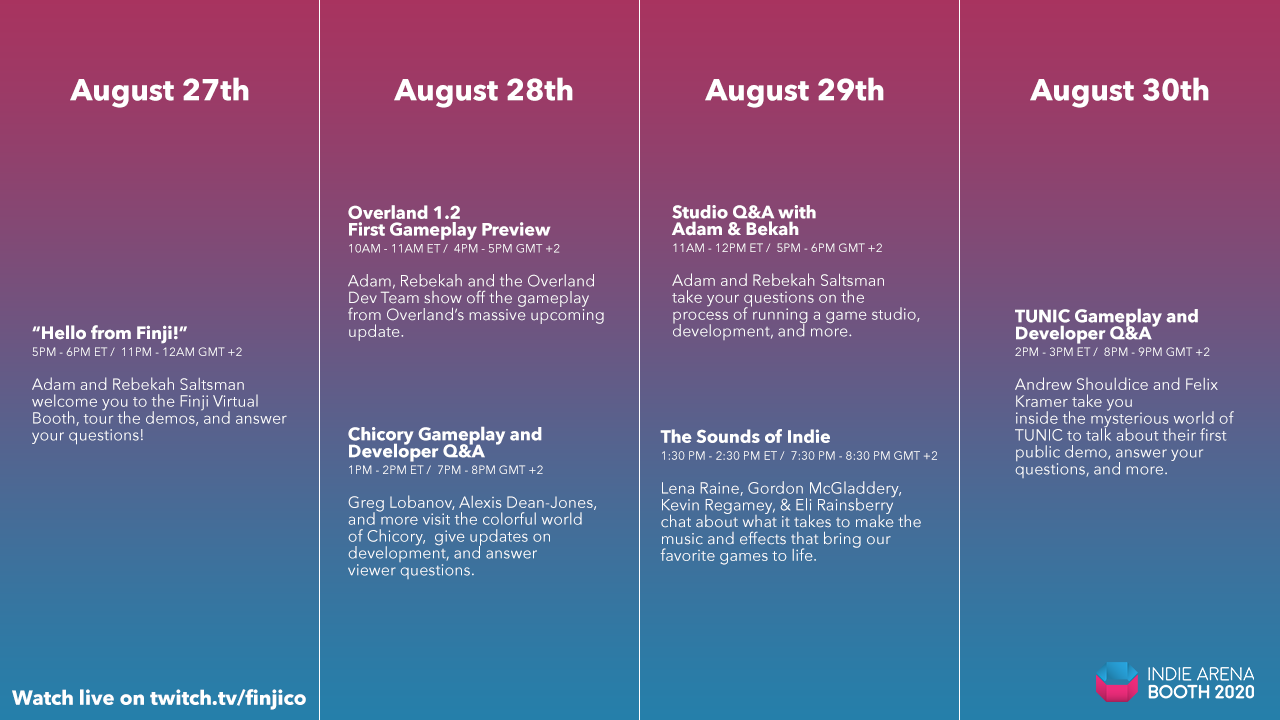 We look forward to having you come to the first ever Finji virtual booth at Indie Arena Booth Online from August 27th through August 30th. If you're interested in chatting with us about the event, or if you'd like to let us know that you're streaming one of our demos, come hang out with us in our Official Discord, or contact us at press@finji.co!
See you in the booth!
~The Finji Team